Blog
Ray Zepeda, Tenor Saxophone
Mike Raney, Trumpet
Doug Davis, Piano/Composer
Glen Fong, Bass
Zanne Zarow, Drums
"Stones", originally written for jazz fusion guitarist, Larry Coryell, who recorded it on his 1971 album, "Fairyland", has an atonal sounding melody with vast intervallic leaps that give it an arc characteristic of 20th century concert music. This recording features a particularly effective piano solo by the composer whose motivic development and overall shaping and energy are notable.  Trumpeter, Mike Raney, takes things out on a Miles tip while Glen Fong and Zanne Zarow contribute engaging solos in a funkier vein.  This has emerged as a consensus favorite on the new Bakersfield New Music Collective album, "Re-Imagining Milton Babbitt: A Centennial Celebration for an Exceptional American", and has received extensive nationwide airplay.
This track and the entire album are available on iTunes, Amazon, CD Baby, and wherever music is sold!
Live Sound Engineer: Peter Wonderly
THIS! JUST! HAPPENED!
Get Babbitt now! Get Bako now! Breakfast Serial Toys – Collect All 12!
https://store.cdbaby.com/cd/bakersfieldnewmusiccolle
Congratulations to the Bakersfield New Music Collective and Special Guest Mash-Up Artist, D.j. Raully D!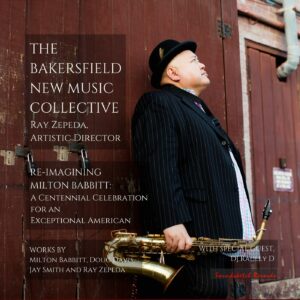 #ForYourConsideration #beyoncestyledrop #rayzepedamusic#djmashups #serialism #electronicmusic #combinatoriality #hexachords#aggregates #twelvetone #atthemark #bjw #avantgarde #thirdstream#chambermusic #dougdavismusic #jaysmithgroup #jimscully #aumstudio
1. Philomel / Shattered Glass on the Beach [4:56]
(Milton Babbitt, music/John Hollander, lyrics) Associated Music Publishers, Inc. – BMI / (Ray Zepeda) Cambridge West Publishing – BMI
2. I Care If You Listen [10:52]
(Ray Zepeda) Cambridge West Publishing – BMI
3. None But the Lonely Flute (arr. Ray Zepeda) [8:37]
(Milton Babbitt) C.F. Peters Corp. [Edition Peters] – BMI
4. Stones [9:36]
(Doug Davis) Chappell & Co. – BMI
5. I Am That Person [6:59]
(Ray Zepeda) Cambridge West Publishing – BMI
6. Vision and Prayer [3:12]
(Milton Babbitt, music/Dylan Thomas, lyrics) Associated Music Publishers, Inc. – BMI
7. End Suite [15:43]
a. My Ends Are My Beginnings (Milton Babbitt) C.F. Peters Corp. [Edition Peters] – BMI [0:00 – 3:03]
b. The End (Jay Smith) Darrell Jay Smith, Jr. – BMI [3:03 – 11:59]
c. Vision and Prayer / An Encore (Milton Babbitt/Dylan Thomas) Associated Music Publishers, Inc. – BMI / (Milton Babbitt) C.F. Peters Corp. [Edition Peters] – BMI [11:59 -14:03]
d. The End [reprise] (Jay Smith) Darrell Jay Smith, Jr. – BMI [14:03 – 15:43]
BAKERSFIELD NEW MUSIC COLLECTIVE
Ray Zepeda, Artistic Director/Founder: Composer [1, 2, 5], Arranger [3, 7], Flute [2], Bb Clarinet [7a], Soprano Saxophone [5], Alto Saxophone [2], Tenor Saxophone [4, 7b, 7d]
Jim Scully: Conductor [2]
Doug Davis: Conductor [5], Piano [2, 3, 4], Composer [4]
Audrey Boyle: Flute [3, 5]
Chuck Degan: Bb Clarinet [2], Tenor Saxophone [2]
Jorge Santos: Bb Trumpet [2, 5], Flugelhorn [5]
Mike Raney(Michael C Raney): Bb Trumpet [2, 4, 5, 7b, 7d], Flugelhorn [2, 5]
Tom Keel: Trombone [2, 5]
Rebecca Spickler: Vibraphone [2]
Paul Cierley: Guitars [2, 5, 7b, 7d]
Tony Rinaldi: Piano [5]
Jay Smith: Synthesizer [5], Electric Piano [7b, 7d], Composer [7b, 7d]
Glen Fong: Double Bass [2, 3, 4], Electric Bass [5,7b, 7d]
Kyle Burnham: Drum Set [2]
Zanne Zarow: Drum Set [3, 4, 5]
Canaan McDuffie: Percussion [2, 5, 6], Drum Set [6, 7]
And Special Guest, DJ Raully D: Live DJ Mash-ups [1, 3, 6, 7c]
Producer: Ray Zepeda
Associate Producers: Laura Booker, Steve Eisen
Recorded at The Mark in Bakersfield, California, USA on 31 January 2017
Recording Engineer: Brian Boozer
Live Sound Engineer: Peter Wonderly
Mixed and Mastered by Brian Boozer at AUM Studio, Bakersfield, California, USA
Photography by Gulnara Khamatova (https://www.daugust.ru/) and Jim Scully (where noted)
Art Direction and Design: Lisa Konczal(www.VeriteCreative.com)
"Special thanks also to Nicole Russell and Kris Tiner of the BNMC, and to Gene Caprioglio, Erik Carlson, Steven Carlson, Micah (Nacita) Chancey, Zack Clark, Kelly Haggerty Joey Hubbard, Lisa Kahlden, Lydia Liebman, Mike Montano, Bob Palmer, James Russell, Leo Sakomoto, Bob West, Rosalinda Zepeda, and the Bakersfield Jazz Workshop for all your support and guidance. I am forever in your debt for your graciousness." – RayZ