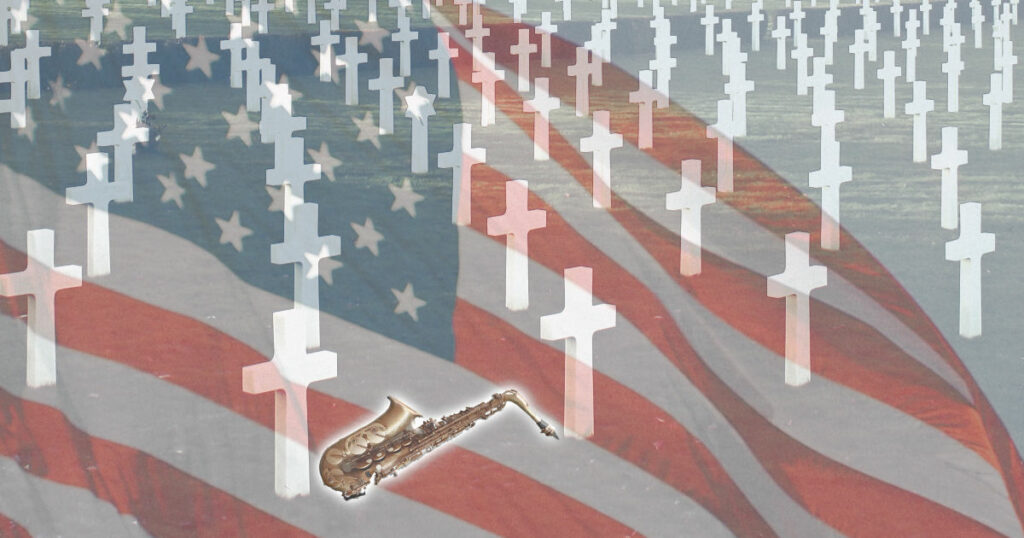 JAZZ IMPROVISATION ACROSS TRADITIONAL AND MODERN STYLES: ASSESSMENTS IN A SIX-WEEK UNIT WITHIN A UNIVERSITY-LEVEL JAZZ IMPROVISATION COURSE
PART 1 OF 4: FORMATIVE ASSESSMENT – FLUIDITY AND MELODIC CONSTRUCTION
Ray P. Zepeda
Two weeks ago, I offered an introduction to a four-part educational blog on this subject of which this is the first. Formative assessments should be done on a continuous basis providing feedback on various and sundry elements of jazz improvisation in the case of this class. This example isolates just two such elements, fluidity and melodic construction. Future parts of this blog shall deal with other elements of improvisation.
While the art dilettanti look upon the judgement of artistic merit with suspicion, many critics have no issue with it but too often ascribe greatness to the technically questionable and offer only derision towards those of sound, traditional grounding and who exhibit instrumental mastery. Is it any wonder students often look upon testing with a degree of trepidation, conflicted and not knowing what is expected of them as they read jazz publications and other media covering art? It is therefore critical that a clear and detailed rubric be presented as a basis for assessment. Rosenberg (1967) asserts that quality of art is objectively traceable to commonly agreed-upon standards of the masters tempered by individual subjective response. Both objective and subjective measures are given adequate representation in these rubrics.
As we go forth today and honor those who "gave their last full measure of devotion" (Lincoln, 1863), let us also remember that it was their sacrifice that preserved our freedom to create and play this form of music, born of America's original sin yet celebrated in her devotion to the struggle to atone for it, and that they faced tests much greater than any that will be encountered in this class or on any bandstand, and with much higher stakes.
Wishing you and yours a blessed and meaningful Memorial Day holiday.
Rubric
Performance Assessment
In other Formative Assessments throughout this Unit, I have scored each chorus of each soloist's improvisation across the Sound/ Expression dimension and the Style Adherence dimension on a scale from 1 to 4. This Formative Assessment will focus on the Technical Execution/Fluidity, Time Feel/Rhythmic Variety and Development, and Note Selection/Melodic Construction and Development dimensions. Each soloist will get three choruses of each of the following: (1) a Traditional style (2) a Modern style, both of the soloist's choosing, over a tune of the soloist's choosing. You may use a rhythm section from the class or, for the more technologically savvy amongst you, the original recording with the soloist muted. The objective is that the student will be able to perform convincingly in both styles, exhibiting all the nuances and characteristics typical of that era.
Traditional styles: Ragtime, Dixieland/Trad. Jazz, Early to Late Swing, Early R&B, etc.
Modern styles: Bebop, Hard Bop, West Coast/Cool, Post Bop, Modal Jazz, Progressive Jazz/Third Stream, Fusion, Contemporary/Smooth Jazz, etc.
The highest chorus score of each solo will be taken for each of the evaluations – (1) and (2). Each soloist will therefore play six total choruses.
Table 1
Improvisation Evaluation Scale: Traditional / Modern Jazz [adapted in part from Smith (2009)]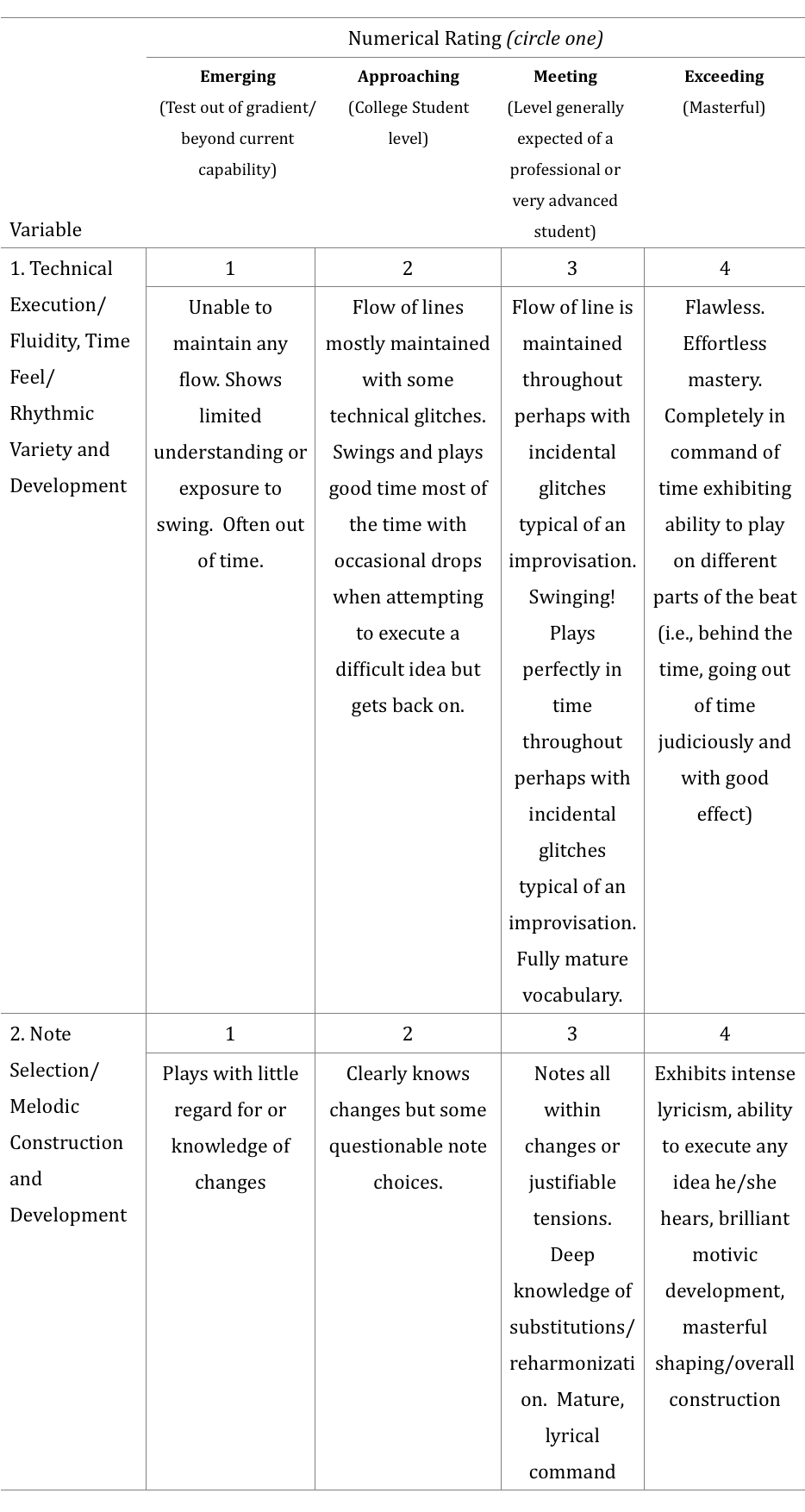 Comments:
Feedback from Scale Assessment:
3 and above: Exhibits or exemplifies the parameter or characteristic nearly perfectly throughout
2: Exhibits the parameter or characteristic moderately or mostly throughout
1: Does not exhibit the parameter or characteristic to any measureable degree
References
Lincoln, A. (2020). The Gettysburg address [Transcript]. Retrieved from http://www.abrahamlincolnonline.org/lincoln/speeches/gettysburg.htm
Rosenberg, J. (1967). On Quality In Art: Criteria of Excellence, Past and Present. Princeton, NJ: Princeton University.
Smith, D. (2009). Development and Validation of a Rating Scale for Wind Jazz Improvisation Performance. Journal of Research in Music Education, 57, 217-235.