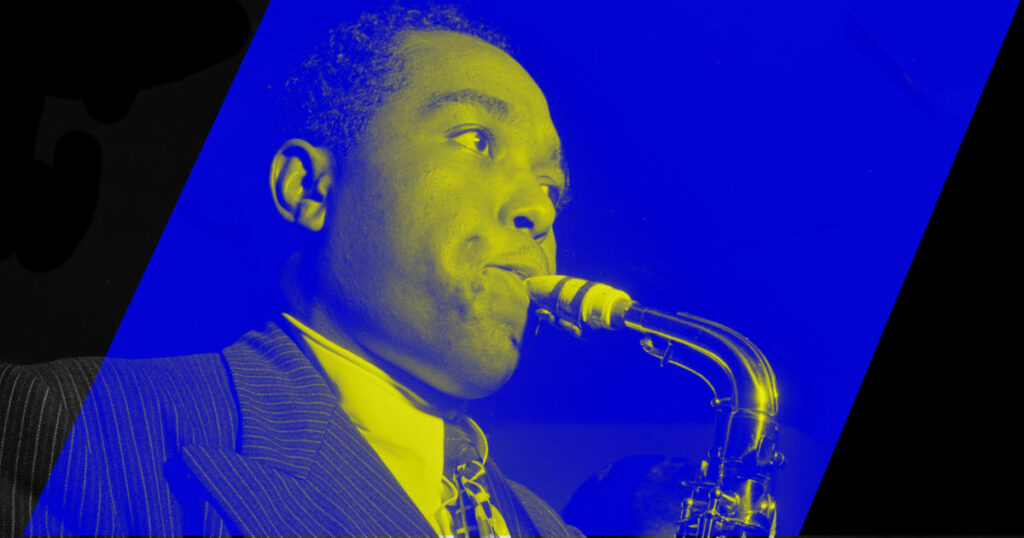 JAZZ IMPROVISATION ACROSS TRADITIONAL AND MODERN STYLES: ASSESSMENTS IN A SIX-WEEK UNIT WITHIN A UNIVERSITY-LEVEL JAZZ IMPROVISATION COURSE
PART 4A OF 4: ANSWER KEY FOR SUMMATIVE ASSESSMENT – FINAL WRITTEN EXAMINATION
Ray P. Zepeda
By popular demand from our readership, I am including an "answer key" highlighting the correct responses for the opening sections of last month's Final Examination for this Unit. I have purposely not included any helpful hints for the essay portion. I leave that for your own cogitation and self-examination. "…know thyself"!
Along those lines, allow me to take a different tack in this celebration of Bird, born this day 100 years ago. Through the lens of history, jazz educators have often treated Bird as an answer key to a Swing Era music that had run its course while their students have treated the Charlie Parker Omnibook, a compendium of written transcriptions of his most seminal solos, as the answer key to "how to channel Bird." As with many historical figures who we hold up as geniuses and innovators, Charlie Parker existed at just the right time for his specific intellectual and artistic powers to be most impactful, and he lived long enough, albeit barely, to become bebop's greatest exponent. (An argument has been advanced that guitarist Charlie Christian, based on his early work with Benny Goodman and others, might have assumed the mantle had he lived long enough). In its defense, the Omnibook does comprehensively present the lexicon of modern jazz's first era through the eyes of its leading creator, not unlike how the works of Bach do the same for the Baroque era albeit on a smaller scale. (Bebop and hard bop represent our "Common Practice" period, just as the Baroque and Classical eras represent that for concert music). What is important for us as jazz educators, however, is to encourage internalization and not merely rote memorization and regurgitation. The artists' recordings must be the most important part of the process. Better to learn a solo from the recording than from the written page. The developing improvisor must have tactile familiarity with the mannerisms of a particular style, yes, but adding the ear to the equation is what will solidify it so that these "Birdisms" can be applied elsewhere. Bird studied Lester "Prez" Young which is largely why his solos maintain so much lyricism at even impossibly fast tempos. Coming from Kansas City, he internalized the players around him which is why his playing is so deeply rooted in the blues even over complicated chord changes. His written practice material was comprised of method and etude books, not solo transcriptions. The latter were learned from 78 rpm records, weighting the tone arm as necessary to slow down the most rapid passages. Moreover, Bird was purported to have practiced 14 hours a day for 3 or 4 of his formative years.
So, here's to another century of basking in and learning from Bird's recorded output and that of all who have followed and who undoubtedly will follow him! All roads to jazz modernism must go through Bird and this roadmap is unlikely to change over the next hundred years either. Now how's that for a sphere of influence?
Bird lives!
Examination
Multiple Choice
1) Collective or polyphonic improvisation is most commonly associated with which of the following jazz styles?
 a) 

Dixieland


 b) Ragtime
 c) Early Swing
 d) Field Hollers
 e) Bebop

2) A straight tone or vibratoless sound is most likely to be found in which of the following jazz styles?
 a) Early Swing
 b) Big Band Swing
 c) 

West Coast/Cool


 d) Hard Bop

3) This jazz style is most known to incorporate notions of classical/concert music.
 a) Classic jazz
 b) 

Third Stream


 c) Contemporary jazz
 d) Fusion

4) West Coast/Cool saxophonists were more likely to have drawn their influences from which of following from earlier eras?
 a) Coleman Hawkins
 b) Johnny Hodges
 c) Ben Webster
 d) 

Lester Young



5) For alto saxophonists, in which of the following jazz styles is the altissimo register most prominently featured during solos?
 a) Bebop
 b) 

Contemporary/Smooth


 c) Hard Bop
 d) Progressive

6) Which of the following trumpeters is most known for playing straight eighth notes during improvisation?
 a) 

Clifford Brown


 b) Roy Eldgridge
 c) Louis Armstrong
 d) Harry James

7) All of the following are highly characteristic of turnarounds in bebop and later jazz styles from that strain except for?
 a) Altered-dominant
 b) Tritone substitution
 c) Arpeggiated ii-7 chord up to the ninth->#5 of V+7->ninth of I
 d) Interpolation of half-step-up ii-V before the standard ii-V
 e) 

Interpolation of half-step-below ii-V before the standard ii-V



8) Which of the following devices would be the least appropriate or least characteristic of traditional jazz?
 a) Turns, gruppetti
 b) Glisses and bends
 c) Fast vibrato
 d) Bebop dominant
 e) 

Altered dominant



9) During what era were quotes from other tunes first utilized in improvised solos on a regular basis?
 a) 

Bebop


 b) Free Jazz/Avant Garde
 c) West Coast/Cool
 d) Smooth jazz/R&B
 e) Ragtime

10) The following devices were commonly employed by bebop-era drummers behind soloists except for:
 a) Dropping bombs
 b) Irregular snare hits
 c) 

4 on the floor


 d) Ride cymbal pattern on ride or hi-hat
 e) Melodic interaction with soloists/melody
True-False
11) "Sheets of sound" in improvisation is common in Big Band swing.
a.) True b.) False
12) Charlie Parker studied Lester Young who, in turn, studied Frankie Trumbauer
a.) True b.) False
13) Because the piece uses all of the all-combinatorial hexachords, there is ample room for improvisation in Milton Babbitt's All Set from 1957 commissioned for the Brandeis Music Festival which, that year, was a jazz festival.
a.) True b.) False
14) Bebop improvisations feature lines and extensive use of arpeggiation.
a.) True b.) False
15) Bebop is the first style pre-1950 wherein improvisers and arrangers employed the upper extensions of the chord.
a.) True b.) False
16) An identifying feature of smooth/contemporary jazz saxophonist, Grover Washington, Jr., is his relaxed phrasing.
a.) True b.) False
17) Pianist, Oscar Peterson, draws from the bebop, swing, and stride (Art Tatum, James P. Johnson) traditions.
a.) True b.) False
18) Miles Davis's bebop-era improvisations are more known for high-register forays than those of fellow bop trumpeter, Dizzy Gillespie.
a.) True b.) False
19) Ben Webster's and Coleman Hawkins's improvisations were generally pure-toned, without subtone and vibrato, especially on ballads.
a.) True b.) False
20) Use of mutes in trombone improvisations is more characteristic in bebop than in Swing Era big band
a.) True b.) False
Fill In the Blank
21) A bebop head written over the chord changes of a pre-existing standard is called a(n) Contrafact.
22) Charlie Parker's "Scrapple from the Apple" is unique in that it employs the changes to "Honeysuckle Rose" in the "A" sections and the changes from "I Got Rhythm" on the Bridge.
23) The alto saxophonist from the Cool era whose sound was said to be like a "dry martini" was Paul Desmond.
24) The sharp and/or flat alteration(s) employed by improvisers on the altered dominant is/are b9, #9, b5, and #5.
25) 'Comping and drumming becomes very sparse or even non-existent behind bass solos.
26) The Duke Ellington Orchestra trombonist known for the "yah-yah" effect in his/her solos was "Tricky Sam" Nanton.
27) Switching to 16th notes (from 8th notes) in a solo to add excitement is called double time (or double-timing).
28) Ending phrases with two eighth notes, long-short, was commonplace in the bebop era.
29) Funk licks are most often heard in contemporary/smooth jazz solos.
30) In Latin jazz, solos are played using straight eighths.
Matching
C

31) Whole-half diminished scale.
A. Quartal

A

32) Building lines and voicings in 4ths and 5ths (as opposed to tertiary harmony)
B. Polychord

F

33) B/C
C. ii-7(b5)

G

34) Lydian b7 tritone above.
D. V7(b9)


E. Pentatonic


F. Slash chord


G. V7 alt.
Matching
F

35) Early piano style not originally intended for improvisation but, ultimately, corrupted into "cutting contest" fodder in nightclubs.
A. Count Basie

C

36) Artist who defined the standard for "shape" playing in improvised lines in contemporary jazz.
B. Cannonball Adderly

A

37) Artist known for extremely sparse but effective solos.
C. Michael Brecker

B

38) Bebop with a pinch of blues and pound of soul!
D. Stride


E. Dave Brubeck


F. Ragtime
Short Essay
Essay#1: Describe your own style in historical context. Who are your influences and why have you chosen them as "mentors"? What have you "taken" from each one? Please tell me in your own words based on your own introspection and self-awareness using specific musical terms. Use professional rather than colloquial writing. Limit your response to a half page.
Essay #2: Jazz musicians to this day struggle over John Coltrane's Giant Steps. Decades before it was written, however, jazz musicians played effortlessly over the bridge of the old standard, Have You Met Miss Jones, which has basically the same changes. Discuss why this struggle persists. Is it only a tempo consideration or does the different style, swing vs. post-bop, have something to do with it? Confine your argument to tempo vs. style and to no more than a page.
Essay #3: Identify at least 3 features you might find in a turnaround on a bebop solo, that of a Swing Era solo, and that of a Dixieland/Trad Jazz solo. Limit your response to one page.